The shock over the large-scale war of aggression with which Russia overran the whole of Ukraine a year ago was great in Germany and Europe. But alongside, a feeling of admiration for the courage of the Ukrainians quickly set in.
What constitutes Ukraine's political and social resilience? What developments at national and local level contribute to this? What is the role of participatory democracy and is progress in the fight against corruption also a sign of resilience?
We discuss these questions and the results of a study she co-developed on the needs and priorities of local authorities in Ukraine with our guest Oksana Huss.

Episode #10 of the podcast UkraineMEMO is also available here: 

      Spotify     Soundcloud     Deezer      Google Podcasts

Oksana Huss is a postdoctoral researcher in the BIT-ACT research project at the University of Bologna and a lecturer at the National University Kyiv-Mohyla Academy. Her research focuses on political corruption, good governance and the decentralisation process in Ukraine. She is co-founder of the Interdisciplinary Corruption Research Network.
Moderator in this episode is Ljudmyla Melnyk.
With its podcast "UkraineMEMO: Interviews, Analysis, Policy Advice", IEP presents new perspectives on Ukraine. With guests from Germany and Ukraine, Ljudmyla Melnyk discusses recent developments in the areas of Ukrainian politics, economy and society and thus provides an insight into the events on the ground that are moving the country. Ukraine's relationship with Germany and the EU is always kept in mind.
UkraineMEMO podcast is produced as part of the "Ukraine Forward: amplifying analysis" project funded by the MATRA Programme supported by the Embassy of the Kingdom of the Netherlands in Ukraine, and implemented by Institute for War and Peace Reporting (IWPR) with its partners. The opinions expressed are those of the podcast host and guests only and should not be considered as reflecting the position of the Government of the Kingdom of the Netherlands or IWPR.
The first nine episodes of the podcast were produced as part of the German-Ukrainian Researchers Network (GURN) and were kindly supported by the Federal Foreign Office.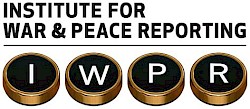 Team & authors
Share publication