Globalization, digitization and social media have drastically fuelled the spread of disinformation. Disinformation is characterized as misleading or wrong information that is created and distributed with the intend to mislead and frame a discourse for own benefits. Factchecking organisations often research and debunk disinformation in editorial teams that are specialised on climate change topics. They dissect and explain manipulated graphics and pictures questioning global warming.
Climate-related disinformation is on the rise, in the form of climate denialism. Those narratives falsely entail, that there is no man-made climate change. However, this is recently giving way to narratives of climate delayism, which aim to stall and minimize climate action and save a status quo. Discourses of delay are harder to disprove and have a very destructive impact on effective climate change policies.
Far right and right populist's actors play a key role in the spread of disinformation often targeting climate activists and members of the Green party in Germany. Yet, the "culture war" narrative, where climate action seemingly becomes part of an ascribed ideological package, has become mainstream. Parties, politicians, and media sources that profit from denouncing climate action can manipulate public opinion by framing information in ways that favour their interests.
Some political actors and media outlets have an incentive to disseminate disinformation since it garners a lot of attention making it more profitable in terms add revenue. Algorithms that promote the spread of misleading information are highly profitable for social media companies.
There is still a lack of sufficient education on media literacy. people seldomly recognize and therefore unknowingly disseminate disinformation. Analysts' and researchers' access to algorithms and data of social media companies is highly restricted, making it difficult to conduct comprehensive research into disinformation. Another issue is insufficient government regulation. It remains to be seen, if the EU's Digital Services Act will provide an adequate framework for holding social media platforms accountable for flagging and taking down disinformation content.
The public debate "Climate Change and disinformation: How disinformation threatens effective climate change policy and what to do about it" on June 15, 2023 took place at the European Commission's Representation in Berlin. The panelists Uschi Jonas, journalist and team leader at CORRECTIV.Faktencheck, Paula Matlach, analyst at the Institute for Strategic Dialogue and Alexander Sängerlaub, founder and director of futur eins shared their expertise on climate change related disinformation with the audience.
The debate was part of the EU funded project RADAR (Raising Awareness on Disinformation Achieving Resilience). Participants of the RADAR Youth lab continued the discussion on policy action against disinformation in the EU in a one-day workshop.
Pictures of the debate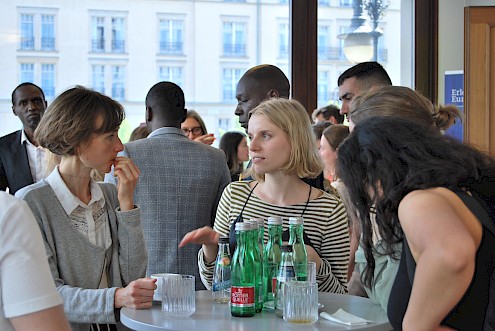 Team & authors
Share publication