On the eve of the start of the German EU Council presidency, the Lord Mayor of Weimar, Peter Kleine, and Jochen Butt-Posnik, Head of the Contact Point Germany "Europe for Citizens" at the Kulturpolitische Gesellschaft Bonn, discussed with many participants at the online citizens' dialog "Staying together and sticking together - Can town twinning help to overcome the Corona crisis? In addition to the importance of town twinning per se, the interactive exchange also focused on the effects of the Corona crisis and how to counter them.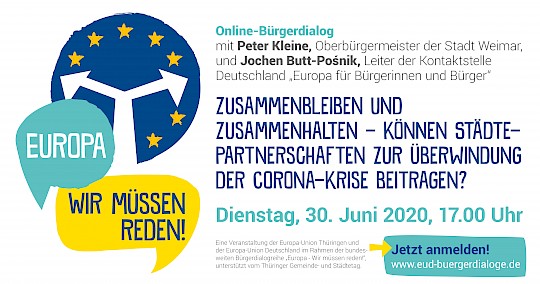 "Citizenship and town twinning in the EU should be further strengthened! In this way, Europe can also be led out of the Corona crisis stronger," both experts explained in the conversation. They pleaded for the funding opportunities at EU level for such bi-national projects to be maintained and expanded. Town twinning is a living exchange and helps to break down prejudices and keep in touch with each other. This involves both political content and cultural exchange. However, such processes can only be established with secure funding and full-time staff, which is not easy for many municipalities to implement.
Many of the participants reported on their own experiences and projects, so that in the course of the discussion there was also a lively exchange of practical tips and ideas. Due to the limitations of the Corona crisis, many people active in town twinning are using digital means to help themselves. For example, participants reported on the creation of joint Corona cookbooks and virtual city tours, but also on varied online meetings, which can also transport the social aspects that are often important for town twinning into the virtual space to a certain extent.
The participants agreed that town twinning has many advantages and added values for a common Europe. Thematic cooperation, exchange, learning from each other, strengthening European awareness and competence are just some of these advantages. But above all, municipal partnerships have always been one thing, and it is essential that they preserve this advantage: They are the place where millions of Europeans come together and cultivate a European togetherness.
The Citizens' Dialogue was accompanied by a video message from Jörg Wojahn, representative of the European Commission in Germany, in which he, too, emphasized the importance of living European cooperation, of which town twinning is an important example.
The citizens' dialogue was moderated by Dr. Claudia Conen, regional chairwoman of the Europa-Union Thuringia. The event is part of the nationwide civil dialogue series "Europe - We need to talk!", which the non-partisan Europa-Union Deutschland e.V. carries out with a large number of partners from politics and civil society. The citizens' dialogue on June 30 was supported, among others, by the Young European Federalists of Thuringia and the Thuringian Association of Municipalities and Cities. Further details and dates can also be found at www.eud-buergerdialoge.de.
Share publication